Professional employees are getting ahead by joining the Society of United Professionals. You can, too.
If you already work in a Society-represented workplace, click here to sign-up as a member now.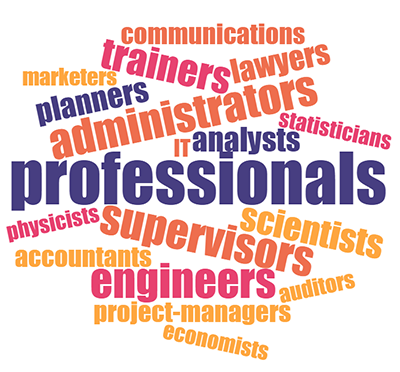 The 8,000 Society-represented women and men work in the public, private and not-for-profit sectors. Our members are: engineers, lawyers, scientists, accountants, supervisors, managers, IT professionals, planners, analysts, communications and public relations professionals, economists, project managers, trainers, auditors, statisticians, actuaries, administrators, customer service professionals and marketers.
The Society of United Professionals is a union with more than seven decades of experience helping professionals in Ontario build rewarding careers with good working conditions.

9 Reasons to Join the Society
Strength in numbers: you will be part of an international union with 80,000 members
Better deals for workers: collective agreements are negotiated by experts and voted on by all members
Job security: protection from "restructuring" and arbitrary dismissal
Someone in your corner: access to the Society's professional staff, who are experts in handling grievances
A strong advocate: expert advocacy for policies and laws that improve workers' lives
Equitable workloads: fair job assignments and performance evaluations
Democratic representation: the Society is run by elected members with the support of professional staff – all members are eligible to be elected
Safer workplaces: access to a join health and safety system that makes workplaces safer
Expert training in leadership, negotiation, representation, advocacy and health and safety
Learn more
Do you think you and your colleagues might be interested in becoming Society of United Professionals members? Contact our organizer Michelle LeBlanc at leblancm@thesociety.ca. We keep all inquiries in strict confidence.